---
Every year, roughly 9 million tons of plastic end up in our oceans.
In 2018, after China banned all foreign import of waste, much of the world's trash was diverted to Indonesia. This made Indonesia one of the world's epicenters for plastic waste.  
In 2016 GOT BAG, founded by two water enthusiasts, created a solution to Indonesia's plastic problem: turn plastic waste into sustainable travel gear. GOT BAG works directly with Indonesian fisherman to collect plastic, and since 2016 has been able to recycle over 129 tons of plastic!
Learn more about GOT BAG's process below.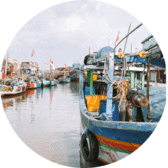 A network of 1,500 fishermen on the north shore of Java, Indonesia collects ocean plastic as by-catch. The plastic is cleaned and sorted before processed.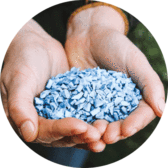 The PET portion of the by-catch is shredded into pellets, while all other unusable parts of the recovered plastic are discarded according to the right recycling chain.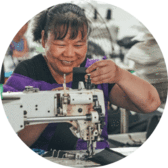 Because of the regional proximity, the pellets are shipped to a production facility in China, where they are turned into a robust yarn and ultimately into a polyester fabric, which is waterproof thanks to an innovative BIO-PU coating.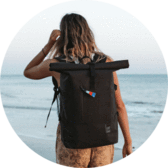 To ensure the CO2 footprint is as low as possible, your GOT BAG is shipped using trains to Europe and ships to the US (as opposed to aircraft).
---
Recycled PET is an eco-friendly alternative to new plastic in our yarn production. One metric ton of recycled PET saves 3.8 barrels of oil, 3,750 lbs of water, and reduces the CO2 emission by 306,000 lbs compared to the industry standard. So far, GOT BAGS has recycled over 129 tons of ocean plastic.
Social + Environmental Values
---
GOT BAG organizes training sessions on waste separation with the local community on Java, to create a collective awareness about plastic pollution. GOT BAG also helps to support the establishment of a waste infrastructure in rural areas. In the long term, they hope to persuade the local government to rethink the way it operates Indonesia's waste management system.
Innovative BIO-PU Coating
---
Sustainable down to the last fiber! The fabric of every GOT BAG is water-repellent thanks to an innovative BIO-PU coating, which uses significantly less water and oil during production, while also emitting less CO2 than traditional coating processes. The coating is 100% biodegradable and all products are free from PFC.
Enter your email and be up-to-date on all new products added!